In-kind donations lie at the core of many of our wide-scale activities. Your products, food, drinks, clothes and shoes are always welcome, as are high-price tag items for our charity events. Furthermore, if you are about to dispose of any possessions, think twice. Perhaps you can help our recycling efforts. We welcome second-hand furniture, electronic appliances, musical instruments, etc. for families and young people in need, and tickets to various activities to widen the horizon of young people.
Do Hong Kong youth a favour and promote your products at the same time.
Contact us, tel 3755 7103, if you would like to donate items or make other product-related offers to HKFYG.
Castle of Magical Dreams
By The Hong Kong Disneyland's invitation, the HKFYG arranged 90 secondary school students to take a free preview tour to the park's new centerpiece "Castle of Magical Dreams" on 8 November 2020, enabling the young people to experience the magical world and enjoy the joyful atmosphere of the park.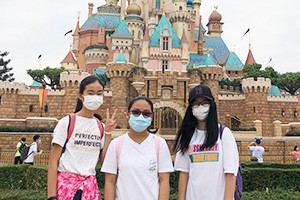 The AIA Great European Carnival
The AIA International Limited donated free admission tickets of the AIA Great European Carnival to the Federation, providing an opportunity for 150 young people to enjoy a fun day at the Central Harbourfront on 11 January 2019. With a wide variety of game booths, amusement facilities and performances, it has created joyful experiences and unforgettable memories for the youths.
Eason and the duo band "L.O.V.E. IS L.I.V.E." concert 2018
The HKFYG was invited by Commercial Radio 903 and pop singer Mr. Eason Chan to be one of the beneficiaries of Eason and the duo band "L.O.V.E. IS L.I.V.E." concert 2018, arranging over 100 young people aged 16-25 to enjoy the show free of charge. The concert took place on 27 October at the Hong Kong Observation Wheel in Central, aiming to heal souls through music and also promote optimism in the community.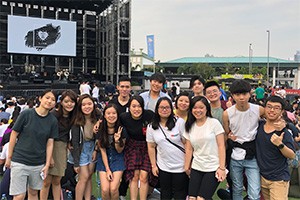 "Joy at the Peak"
Since 2008, with the support of the Peak Tower Limited and Peak Tramways Company, Limited, the Federation has taken hundreds of young first-time visitors and underprivileged families to participate in "Joy at the Peak" (formerly known as "My First Peak View") every year, sharing love and joy with the community. The participants have a chance to ride on the Peak Tram, visit the Peak Tram Historical Gallery, and also enjoy the stunning view at the Peak Tower and Sky Terrace 428.
Other organizations / events giving away tickets via HKFYG included:
Hong Kong Arts Festival
Hong Kong Book Fair
Hong Kong Children's Musical Theatre Group
Hong Kong Chinese Orchestra
Hong Kong Equestrian Association
Hong Kong E-Sports and Music Festival
Hong Kong Opera
Hong Kong Philharmonic
Media Asia Film
Office of the Commissioner of the Ministry of Foreign Affairs of the People's Republic of China in the Hong Kong SAR
Reading Dreams Foundation Limited
Wai Yin Association