The HKFYG runs various social enterprises to support youth development and maximize potential. Here are some examples.
PH3
This 89-square-meter venue can accommodate up to 40 people. Located in a revitalized Wan Chai historic building in Lee Tung Street, it is the perfect place for dining, celebrations, corporate functions, private or corporate parties, cultural and artistic exchanges, small concerts, handcraft workshops, etc. AV facilities, wifi and one-stop, tailor-made services from professional young entrepreneurs are available. They include catering, decor, performances and souvenirs which promote youth business in Hong Kong. In addition, PH3 regularly organizes thematic events with different partners to provide a platform for youth to exchange ideas and experiences.
Address: 3/F, 186-190 Queen's Road East, Wan Chai
Tel: 5933 6323
Website: ph3.hk/zh/home/
FAT CHOY
A green escape right in the city! That is the philosophy behind FAT CHOY, a restaurant that offers a relaxing environment with produce, including lettuces, potatoes, pumpkins, papayas, tomatoes, cacti from the HKFYG Organic Farm. With ingredients from other local sources, its seasonal dishes promote low-carbon, delicious cooking and a "green" dining culture. The restaurant provides employment and training for young people and works with the Federation's nearby WL Residence to give opportunities to vulnerable youth.
Address: G/F, 60, Staunton Street, Soho, Central
Tel: 3104 9134
Website: www.facebook.com/HKFYGFATCHOY
Cafe 21
Cafe 21, managed and run by young people, has a modern, comfortable ambience and tasty menu choices. It is open to the public, just a short distance from Quarry Bay station, but also offers private catering in partnership with the HKFYG Organic Farm and Organic 21. It occupies 1,500 square feet, has seating for 45, an audio-visual system and free wifi for meetings and private parties. Your perfect event venue!
Address: G/F, The Hong Kong Federation of Youth Groups Building, 21 Pak Fuk Road, Quarry Bay
Tel: 3188 5792
YB21
To support social innovation, HKFYG has opened a shop for creative products in a hip part of Central. It not only provides a retail platform but also gives young entrepreneurs a better opportunity to boost their chances of success. Consignments are welcome, e.g. travel accessories, IT gadgets, housewares, watches and clocks, jewellery and fashion accessories, gifts and premium, etc.
Address: G/F, 62B, Staunton Street, Central, HK
Tel: 6356 1790
Website: www.facebook.com/hkfygyb21/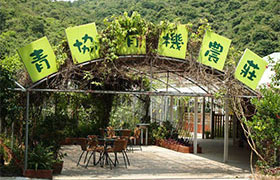 Organic Farm
The Organic Farm in Yuen Long produces 42,000 catties of seasonal crops annually and is the only one with USDA organic certification. Besides selling to individual members, it also prepares festive organic hampers: a special way to greet partners and loved ones. With sponsorship from partners, about 20,000 young visitors learn about farming each year, getting their hands dirty, planting and harvesting, and finding out about organic produce. The aim is to promote the link between healthy living and the environment.
Address: No.1 Family Walk, Ho Pui Reservoir, Pat Heung, Yuen Long, New Territories
Tel: 2838 4808
Order Online: organicfarm.hk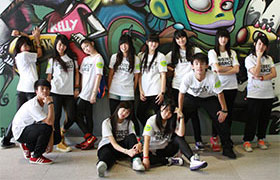 Project Dance Studio
Providing professional dance training, business startup expertise and employment opportunities is the goal of the Studio. Young clients develop their potential for working in the entertainment sector and partners are invited to support them by offering jobs and opportunities to perform. A great way to showcase young talent!
Address: Jockey Club Farm Road Youth S.P.O.T., G/F, Rose House, Ma Tau Wai Estate, Shing Tak Street, To Kwa Wan, Kowloon
Tel: 2713 1002
Website: fr.hkfyg.org.hk/projectdance/